***SUMMER 2013 FRINGE FESTIVAL TOUR CITIES ANNOUNCED***
Montreal! Minneapolis! Edmonton!
For more info see Upcoming Performances
We are currently raising funds to support the tour -
find out how you can contribute!

TAP ME on the SHOULDER
Written & performed by Erika Kate MacDonald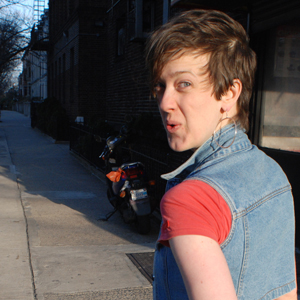 From the award-winning creators of Fluid and Peg-ass-us, masters of queer storytelling Pack of Others present a "fierce and heartfelt" one-woman show about rapping, words, empowerment, and challenging the status quo. Structured as a ten-step lesson plan for how to become a rapper, this rap and movement-infused story explores one nerdy white girl's coming out/of age journey from New Hampshire hilltops to Brooklyn fifth-floor walk-up vistas. With MacDonald's "magnetic stage presence" and "wicked comic timing," the rap lessons become a vehicle for learning how to listen, find your footing, secure your place in the world, and indulge your curiosity... boldly.
Photo credit: Jonathan Farmer
Erika Kate MacDonald, Co-Founder of Brooklyn-based theater company Pack of Others, performed her previous solo show, Fluid, at Dixon Place to sold-out houses. Fluid went on to win numerous awards including being named to Curve magazine's top ten lesbian plays. She has toured nationally and internationally performing at the San Francisco, Minnesota, and Boulder Fringe Festivals, at Harvest: The Montreal LGBT International Theater Festival (Director's Choice Award Winner), and at schools, conferences and independent theaters across the U.S. In 2012 she attended the EMERGE Interdisciplinary Artist Residency at Earthdance, and was awarded grant funds to begin development of Tap Me on the Shoulder.