More Shows
Pack of Others is a Brooklyn-based theater company. Its flagship show, FLUID, is a solo exploration of "bi"-sexuality written by Erika Kate MacDonald and directed by Sophie Nimmannit appeared at the Boulder Fringe in 2007. FLUID has toured to the Minnesota & Boulder Fringe Festivals, Portland (OR), New York City (Dixon Place), Wheaton College, BECAUSE '08 & '09 (Midwest Conference on Bisexuality in Minneapolis) and Harvest V, the Montreal LGBT International Theatre Festival.
Peg-ass-us, the show about pegging, has appeared at the Montreal & San Francisco Fringe Festivals, the Brick Theater (Brooklyn), Bard College and as Artists-in-Residence at Dixon Place. The show has toured to Juneau, AK, Seattle and Portland and appeared as part of Sex Week at Brown (2011) and Yale University (2012). Along the way, it won "Best Comedy" at the San Francisco Fringe, received the blessing of sex educators, and inspired awesome conversation, plus who-knows-what-else.
In 2007-2008, Pack of Others produced VOTE DEBS!, a theatrical presidential campaign for Eugene V. Debs that performed in the streets and theaters of New York City. A new show, Tap Me on the Shoulder, premiered in Northampton, MA in 2012, and is now touring.
FLUID
FLUID: A personal exploration of "bi"-sexuality.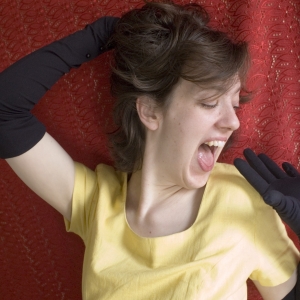 A splashy solo spectacle packed with tough lesbian raps, groping confessions and advanced bisexual linguistics. Erika Kate and her characters dexterously navigate the terms and conditions of expressing one's sexual identity, and playfully probe the slippery realms between definitions.
Written, performed by Erika Kate MacDonald
"...the real star of the show is her stage presence, charming, playful, and, yes, sexy. In fact, that's one of the driving dynamics of the show -- the way that she both manages to effectively send up how ridiculous the mystique of the bisexual woman is, while simultaneously using it to her advantage." MN Fringe blogger P.L.
VOTE DEBS in '08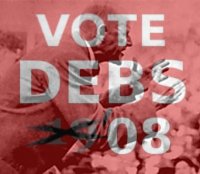 Vote Debs in '08 was a 2008 presidential campaign alternative and ongoing theatrical performance designed to unlock the spirit and passion of five-time candidate Eugene V. Debs and the labor movement of the early twentieth century. Created by Brian Pickett & Sophie Nimmannit. Contact; votedebs [at] gmail [dot] com



Media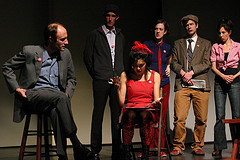 June, 2008: New York Press, ON THE TRAIL WITH THE THINKING MAN'S CANDIDATE by Dana Rossi.
April 20th, 2008: Campaign visit to WBAI 99.5 FM "The Next Hour" (Segment begins at 43:00)
May 6, 2007: Washington Post "What This Country Needs", by Robin Shulman.
Past Events
July 2008: Candidate Debs visits Camp Kinderland for the People's National Convention as part of "A People's Platform: Kinderland's Agenda for Progress."
June 13th, 2008: Candidate Debs visits the Catholic Worker!
May 24th, Lower East Side Theater Festival 2008 May Day Celebrations! Eugene & Red Genie return! Get to know the candidate through in-depth interviews and in-depth analysis, and excellent original campaign music by ukelele hip-hop guru Jon Braman. Featuring: Liza Bryn, Jonathan Farmer, Aaron Lisman, Erika Kate MacDonald, and Sean Toohey.
April 30 @ 8pm* Hudson Guild Theatre 441 West 26th Street between 9th and 10th Avenues All seats $10 For tickets call 212.352.3101 or visit www.ProspectTheater.org *Presented by Prospect Theater Company's 2007-2008 Dark Nights Series produced by Dev Bondarin
Thursday May 1 @ 8pm ***RESERVATIONS RECOMMENDED: we're gettin' booked!*** Jimmy's No. 43 43 East 7th Street between 2nd and 3rd Avenue 2 Drink Minimum Come celebrate May Day with us! To reserve a spot email us:votedebs [at] gmail [dot] com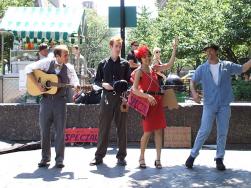 June-July 2007 "Red Special Campaign Tour" Washington Square Park Street theater marking the anniversary of the speech Debs delivered to workers in Canton, Ohio - speaking out against World War I - for which he was subsequently arrested. Under Woodrow Wilson's administration, the Espionage Act of 1917 made it a crime for a person to "convey information with intent to interfere with the operation or success of the armed forces of the United States." The Supreme Court unanimously upheld the sentence of ten years and on April 13, 1919 Debs entered the Atlanta State Penitentiary. He served almost three years, while running a fifth Presidential Campaign from behind bars. Debs won nearly one million votes running on a socialist platform of brotherhood and working class solidarity.
May 2nd, 2007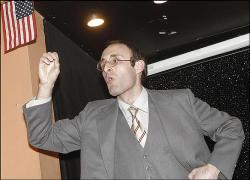 "Vote Debs in '08 Campaign Kickoff Party" Jimmy's No. 43 43 East 7th St., Manhattan Five-time Socialist Candidate and convicted felon, Eugege V. Debs! The Music of Joe Hill and the Solidarity Forever Singers! Guest Appearances by Emma Goldman and others! And introducing Red Genie! Music by Aaron Lisman of the Blue State Band.


Past Projects
Arachne Created & Performed by Sophie Nimmannit Directed by Benjamin Evans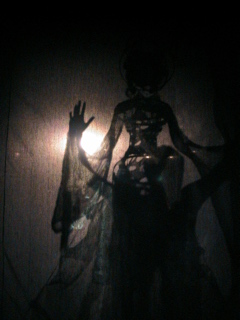 From her web, the spider Arachne tells her story of the battle between mortal and divine pride, with help from her gregarious little father and the imposing goddess Athena. Body-integrated puppetry and masks switch and flip quickly though this triangle of characters as they fable and fight. Premiered at the 2006 Boulder International Fringe Festival. Audience Reviews: "Amazing! The spider costume simply took my breath away. The puppetry and masks brought the other characters to life so convincingly. I want to see this one again." -Jennifer J. "Challenging and absorbing, steady energy, strong images, moving classical story. Excellent puppet work and imaginative costumes/props. Very interesting work -- we need more!" -Steve L. "This is really original work by someone who grasps the essence of puppets and masks and has a strong presence." - Betsy T.
VOTING RITES: A theatrical exploration of women's attitudes towards voting Written & Created by Erika Kate MacDonald A non-partisan, one-woman show drawn from material gathered in 38 interviews with local New Hampshire women of all ages. An exploration of the frustration and elation of being a woman voter in 2004 America, and what the individual's life has to do with the political process. Performed at the Mariposa Museum in Peterborough, NH. October, 2004