Performances
Peg-ass-us at SUNY Stony Brook!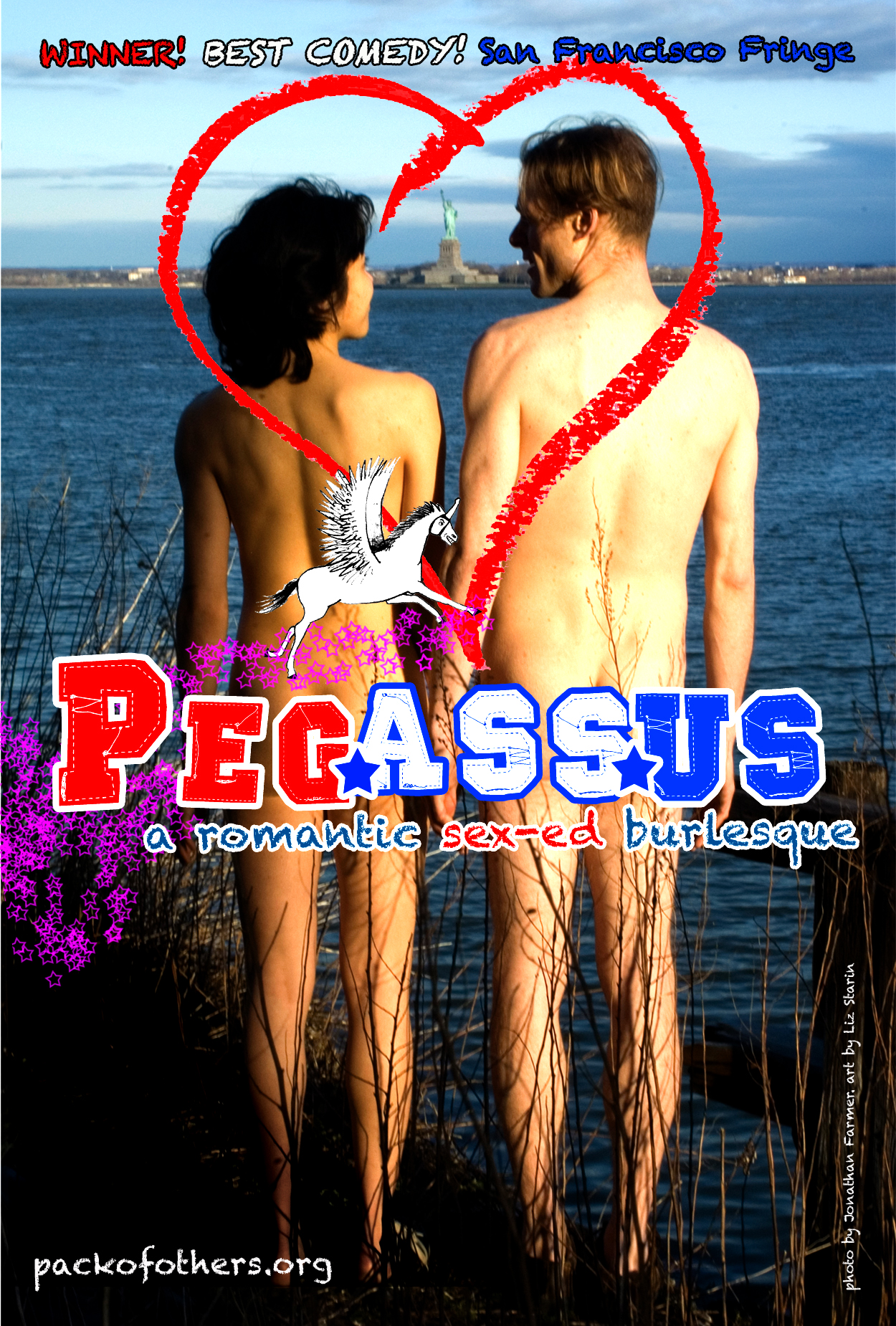 Monday, April 29th, 2013
Join the Facebook event...Please join the LGBTA in welcoming Peg-ass-us to Stony Brook campus!
We're always looking for future show locations! Contact us if you have a good venue, festival, conference or event!


Past Performances
Summary: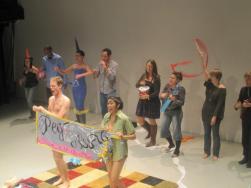 2012: Yale's Sex Week, NYC, Denver and Boulder Fringe (with a roundtable alongside the Center for Sex Positive Culture Colorado). Winner of an Encore at the Boulder Fringe!

2011: Sex Week at Brown University
2010: Juneau (Hangar on the Wharf), Seattle (Center for Sex Positive Culture, Annex Theatre), Portland (Someday Lounge)
2009: Brooklyn (Brick Theater), Bard College, New York City (Dixon Place, October Artist in Residence)
2008: Montreal (Montreal Fringe, Just for Laughs), New York City (Dixon Place HOT! Festival), San Francisco (Center for Sex and Culture)
2012:
February 4th: Sex Week, Yale University. Ten years after Peg-ass-us co-creator Sophie graduated from Yale, she returned to perform in Nick Chapel for Yale's 10th Sex Week! Co-sponsored by the LGBTQ Cooperative.
May 4th-5th: The Tank, New York City, 151 w. 46th St. (b/t 6th and 7th Ave), 8th Floor, New York, NY 10036.

August 9th-11th: work|space at The Laundry on Lawrence, 2701 Lawrence Street, Denver, CO 80205.
Special Denver Q&A Guests!
Fri. Aug 10th: Kitten Karlyle. With over 12 years of experience having lots of sex, Kitten fancies herself some sort of "expert" on sexuality. She is pansexual, polyamorous, kinky and above all else, totally depraved. She blogs about her sex life at dirty-words-blog.blogspot.com and sometimes stars in porn, which is making its way to the Internet very soon at meetthemayhems.com.
Sat. Aug. 11th: Shanna Katz, M.Ed, ACS is a queer kinky disabled femme and board certified sexologist, sexuality educator and professional pervert. From topics like relationship communication skills to non-monogamy, and oral sex to how sexuality and dis/ability intersect, she talks, writes and teaches about the huge spectrum of sexuality, both from personal and professional perspectives. For more info, please visit her sexuality education site, www.ShannaKatz.com.
August 15th-28th Boulder International Fringe Festival! At Wesley Chapel. Peg-ass-us was originally conceived at the Boulder Fringe, when two theater artists from opposite coasts met and discovered their shared passion for adventurous original theater, among, um... other things.
2011: Peg-ass-us goes Ivy!
March 15: Sex Week at Brown University, hosted by the Sexual Health Education and Empowerment Council (a.k.a SHEEC). Rites and Reason Theater, 7:30pm. Q&A after the show!
2010: FebTour in Juneau, Seattle, & Portland
Feb. 5th-6th: The Hangar Ballroom Juneau, Alaska Egan Drive, Merchants Wharf Juneau, AK, 99802
Feb. 14th (Valentine's!)- 17th: Annex Theater, Seattle, WA 1100 E. Pike St (11th Ave at E. Pike St.) Seattle, WA 98122
Seattle post-show Q&A's featured:
Feb. 19th-21st: Someday Lounge, Portland, OR 125 Northwest 5th Avenue Portland, OR 97209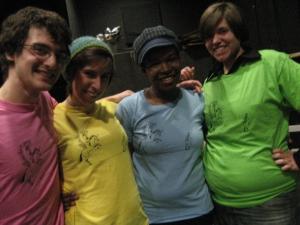 2009: New York City & New York State
Oct. 2nd-24th: 2009 Artist in Residence at Dixon Place, NYC. 161A Chrystie St, New York, NY
Feb. 27th: Bard College, Old Gym
Hosted by the Queer Straight Alliance Cost: Free! Available to all
Read feedback from QSA Co-Chair, here!
Feb. 13th-21st: Brick Theater, 575 Metropolitan Ave, Brooklyn


2008: Summer Festivals: Montreal, NYC, San Francisco

September 3rd - 14th: San Francisco Fringe Festival Center for Sex and Culture
1519 Mission St. (Between 11th and South Van Ness) San Francisco Peg-Ass-Us and FLUID are delighted to be hosted by the Center for Sex and Culture, a non-profit sexuality education center founded by Dr. Carol Queen and Dr. Robert Morgan Lawrence. CSC Mission Statement: To provide non-judgmental, sex-positive sexuality education and support to diverse populations by means of classes, workshops, social gatherings, and hands-on, practical skills-building events; to maintain and house these events and supporting materials and functions; to maintain a publicly-accessible library and archives; to staff and support this learning environment.
June 12th - 22nd: St-Ambroise Montreal Fringe Festival, Just for Laughs Studio, 2109, Boul. St. Laurent.
July 10th - 12th: HOT Festival at Dixon Place, 258 Bowery, New York City