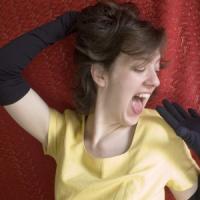 Press Files: Right-click on links to save files.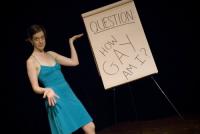 Blue Dress HI-RES Photo JPEG (6MB)
Media contact: Erika Kate MacDonald, contact via email
For Immediate Release: August 5th, 2008.
"Bi"sexuality Takes Center Stage. For Real This Time.
(Montreal, Quebec) Biphobia – fear or mistrust of any sexual orientation which is not either strictly heterosexual or strictly homosexual – is currently flourishing even in very progressive communities, and even as many queer realities grow ever more "acceptable." On TV, in film, songs, and in everyday conversations, fluid sexualities are regularly fetishized, demonized or, worst of all, ignored or dismissed. Brooklyn theater company Pack of Others (producers of this year's unlikely Montreal Fringe hit, Peg-Ass-Us) is out to change all that with their powerful, and powerfully human, one-woman show, FLUID, coming to Theatre Ste. Catherine this October as part of Village Scene Productions' Harvest V Festival.
"Really raw and exposed … and hilarious all at once. If you've ever questioned, or even unknowingly questioned, Erika will strike a chord." In this "brilliant cerebral romp" writer and "charming, playful, and, yes, sexy" star Erika Kate MacDonald, gently dissolves the restrictions of binary thinking about gender and attraction, presenting a grounded, nuanced look at "bi"sexuality, which stands in contrast to mass media's sensationalized attempts to engage with the topic (e.g. MTV's recent dating show starring flashy bisexual personality Tila Tequila). "Smart, funny, emotionally honest," "entertaining and challenging," FLUID is, at its heart, an ever-spiraling coming out story, told through a mixture of adept personal storytelling, shockingly entertaining mathematical and linguistic lectures, rousing original rap songs, and sassy multi-character confrontations.
"I felt like I was there with Erika on her journey through what it means to be a person in this world. Definitely a conversation piece. Hilarious and touching." Accessible to self-identified straight and queer audiences alike, and designed not just to entertain, but also to increase visibility and understanding, encourage conversation, and build community, FLUID just finished a run at the Center for Sex and Culture as part of the 2008 San Francisco Fringe Festival. The show has also has toured to the Minnesota and Boulder Fringe Festivals, Portland, OR, New York City, Wheaton College, and BECAUSE '08, the Midwest Conference on Bisexuality in Minneapolis, MN. The performances at Harvest V mark the show's Canadian premiere.
Erika Kate MacDonald earned her B.A. in Theater at Yale University, and is a New York- and New Hampshire-based theater artist, professional yoga teacher, and budding rap star. FLUID is her second full-length solo show, after Voting Rites: An Exploration of NH Women's Attitudes Towards Voting (2004), and she is in the beginning stages of developing her third show, an interview-based piece exploring the ways her generation thinks about sexually transmitted infections.
Sophie Nimmannit is a physical theater performer, director, and puppet- and mask-maker with training in Suzuki, Viewpoints, mask and clown. She performs with John Leo in Pack of Others' show Peg-Ass-Us, and appears as campaign manager for VOTE DEBS in '08, a theatrical presidential campaign alternative.
*Quotes taken from reviews at the 2007 Boulder and Minnesota Fringe Festivals.
Dates:
Wednesday, Oct. 8th @ 19:30
Friday, Oct. 10th @ 19:30
Saturday, Oct. 11 @ 19:30

Tickets $15 (Reduced $12)
Advance tickets: tickets@villagescene.com or 514 656-3420
(Service charge may apply)

Performances at the Saint Catherine Theatre
264 Ste-Catherine E.
(metro Berri-UQAM) (Map)
Montreal, QC
- ## -