EVACUATED!
2017
For Evacuated! press images and releases, click here.
See also the main show page here.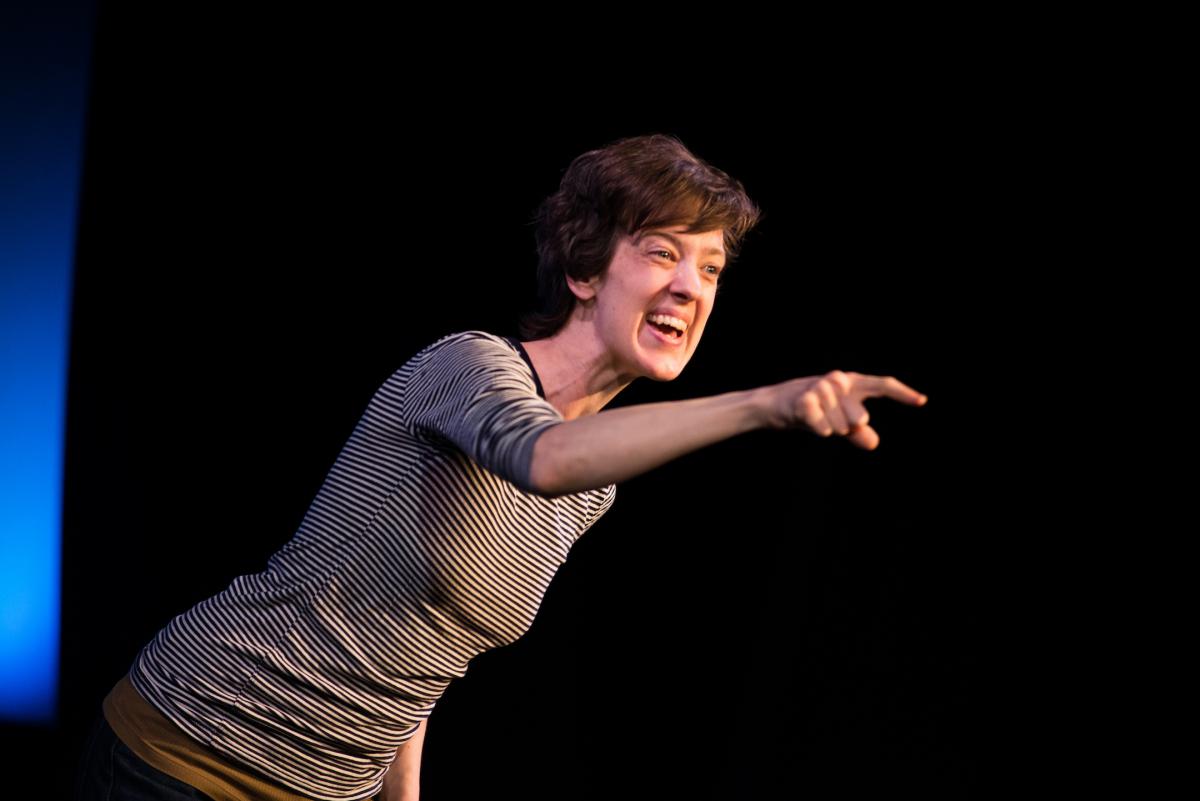 TAP ME ON THE SHOULDER
2014

Press Photos and Press Release (see below)

Erika Kate MacDonald
Photo Credit: Jonathan Farmer
Dixon Place (New York, NY)

Erika Kate MacDonald
Photo Credit: Patrick Shannon
Montreal Fringe Festival

Erika Kate MacDonald
Photo Credit: Sommer Gray
Home Performance Series (Hadley, MA)
FOR IMMEDIATE RELEASE:
NORTHAMPTON, MA (August 25, 2014) - Pack of Others returns to the Boulder Fringe this year with Erika Kate MacDonald's TAP ME ON THE SHOULDER, a one-woman show about how she unexpectedly started rapping as an adult.
Set in a tiny Brooklyn living room, TAP ME ON THE SHOULDER is MacDonald's own story told with an intimate, seemingly casual delivery, and includes original raps performed in her signature, stripped-down style. Her stories take the audience from Indonesian dance classrooms to rural New Hampshire kitchen tables, by way of Minneapolis bike punks, provocative Indigo Girls merch, and the classic rap album "Illmatic."
"MacDonald has a talent for skillful and creative use of the English language when rhyming about love, life, and confrontation." - Pioneer Press, Minneapolis
PRODUCTION HISTORY
TAP ME ON THE SHOULDER won the Critic's Choice Award for "Best Female Performance" at the Orlando Fringe Festival earlier this year. The show toured last year to the Edmonton, Montreal, and Minnesota Fringe Festivals, and was presented independently in New York City and Northampton, Massachusetts. The show received Massachusetts Cultural Council grant funding for an extended run as a Home Performance Series earlier this year.
ABOUT THE COMPANY
Pack of Others won the 2012 Boulder Fringe Encore Award with Peg-ass-us, which also won Best Comedy at the San Francisco Fringe. The company's first Boulder Fringe appearance was in 2007 with MacDonald's FLUID, a cabaret-like solo show about bisexuality, which was named one of Curve Magazine's "Top Ten Hottest Lesbian Plays," and was the Director's Choice at Montreal's Harvest Theatre Festival. Pack of Others was founded in Brooklyn in 2007 by Erika Kate MacDonald and Sophie Nimmannit, who met while earning B.A.s in Theater Studies at Yale University.
TICKETS AND INFORMATION
Tickets are available online or at the door. Advance tickets can be purchased at http://www.boulderfringe.com
Venue: Dairy East Theater, 2590 Walnut Street, Boulder, CO
Show dates and times (60 minutes): Thu. 9/18 - 4:00pm; Fri. 9/19 - 8:00pm; Sun. 9/21 - 4:30pm; Mon. 9/22 - 8:00pm; Tue. 9/23 - 9:30pm; Fri. 9/26 - 4:30pm.
Tickets: $12/$10 Students, Seniors
Discounts: Thu. 9/18: 2-for-1 discount; Mon. 9/22: Buy 4 tickets get one free.
Festival dates September 17-28, 2014. For more information about the Boulder Fringe Festival visit boulderfringe.com.